Patio Cover Kits. Designed to Improve Your Outdoor Living Space.
You're decided on materials. You know your budget. And you're settled on the perfect style for your home. All that's left now is to find a reputable patio cover company to work with. Have you been frantically searching "aluminum patio covers near me" and not finding anything that fits your needs? At Alumicenter, we have traditional and modern DIY patio cover kits to suit any style of home or backyard. Reach out to our team today to discuss your Florida backyard renovation project. Our DIY patio cover kits save time and money for Florida homeowners. But you still get all the satisfaction of building it yourself.
How Much Does it Cost to Build a Patio Cover?
Get an instant quote for your next DIY patio roof kit
Aluminum Cover Patios Quick Questions & Answers.
Customer common questions about building a patio cover.
Patio Kits Shipped to Anywhere in Florida.
Get your patio cover kit delivered anywhere in the state of FL.
Alumicenter Knows What Florida Backyards Need.
Alumicenter offers its customers a transparent online quote tool, so you can find out costs or compare the prices of different sizes and materials instantly. Of course, if you have specific or unusual requests, you can also chat with their experienced building team. Ordering a do it yourself patio cover kits kit cuts contractor's cost making the process quicker and far kinder on the pocket.
Can I Install My Own Patio Cover?
With our insulated aluminum patio cover kits, you have the opportunity to increase the outdoor living space of your home. We can all agree, there's something so empowering about tackling patio roof ideas on your own. It's like putting the pieces of a puzzle together without the help of the picture on the box. Many people live for the endorphins released when successfully completing a DIY project, and we're here to help you feel good in your home. If you're worried that this will be an "it's easier said than done" case, you can follow our step-by step DIY online installation video and guide. We will be with you every step of the way.


Patio cover kits come in standard sizes and can be shipped anywhere in the state of Florida. We understand that people have unique tastes therefore, you can choose from the traditional or modern designs available, based on what best matches the architecture of your home. You may also add Fan beams which will allow you the ability to install lights and/or fans, as well as rain gutters to your order. The solid patio cover kits also comes with all the components and accessories to complete your project.
Product Master Sheet
Traditional DIY Patio Cover.
Traditional Insulated Patio Roof Covers are designed to offer full protection from the sun and its harmful UV rays. The core of these roof panels is heavy duty and it can filter heat passing through it by up to 15%. The patio roof panel is perfect for all seasons of the year, including the hot summers.
.
Modern DIY Patio Cover.
A modern patio cover will give your home a sleek and stylish look. It also enhances your home appeal and improves the aesthetic sense of your outdoor landscape. It is built with a unique structure, easy to install and durable enough to provide long lasting protection, even from a sizable snow load, should you live in a climate where that's of concern!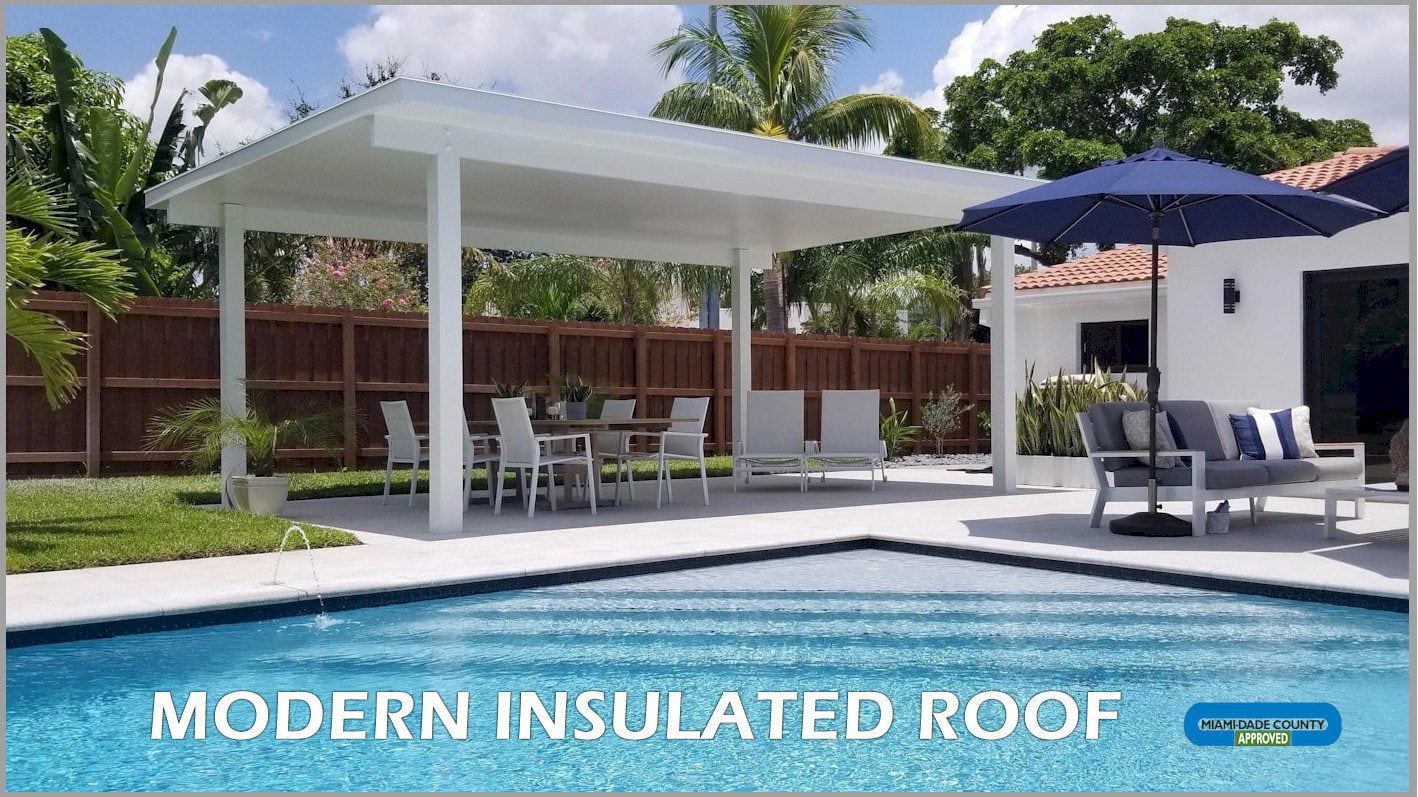 ABOUT ALUMICENTER TEAM.
Even if you are handy enough to choose one of our DIY kits our team is always available to help you through every step of the installation process. You are your own patio cover designer, we are just here to lend a helping hand! Our patio roof kits are easy to install, cost effective, and add appeal to your outdoor living space. We encourage you to contact us for a quote today. 
We ship anywhere in Florida and provide local installation in South Florida. We also provide finace options for customer interested to purchase our DIY Kits with diferent lenfing programs.


I was looking to add a 12×26 carport patio cover. I discovered Alumicenter while researching online. Furthermore, I sent in for a quote received a call within 10 min. They were wonderful. I was able to have a kit made and delivered in less than 3 weeks. Juan was wonderful and let me know if I had any issues or questions on install to call him. Highly recommended company.–Pat Porter, Daytona Beach, FL

Alumicenter Inc. Offered ideas and suggestions all through the project. The shipping of our aluminum insulated roof  kit was on schedule and the wood crating was outstanding. Alumicenter earned its rating and the product is first class. I highly recommend them. If you have the desire to install your own patio cover, give this company a try, you will be well satisfied.–Rudy R. Mackinaw, IL

Awesome service!!! Alumicenter Miami is an excellent company. They are very knowledgeable about their products, the permitting requirements and the industry in general. They are prompt to respond to any concern and/or needs you may have. Their products are of a very high quality, strength, and it looks great also.–Lino Llanes, Miami, Fl 

Best luck e-v-e-r finding this company. They are so friendly, helpful and completely knowledgeable of the patio cover kits they sell. They were patient  and made sure I got exactly what I needed and understood the procedures for assembly. The product itself was a wonderful surprise. Having seen flimsy DIY kits at the big orange store, I was amazed by the quality. These extrusions are beefy. From the roofing panels, the full 1/8″ thick 4×4 posts and 2×5 beams to the 2×2″ screening extrusions, everything arrived in perfect condition. The company delivers direct, so the products are not abused by a secondary delivery truck. Truly thankful for this quality product and the fair price for such superb quality. .–Janice Scanlon , Big Pine Key, Fl 

Totally pleased with my aluminum patio roof purchase. I got all the help I needed to figure out what I was doing. The videos make installation a breeze. Shipping time was very fast. I had a couple of installation questions and got the answers I needed in a matter of minutes with a quick phone call. I would recommend this company and product to anybody that has basic construction knowledge. Minimal tools and skill level required. –Larry Brost, Panama City Beach, Fl 

Juan was professional and easy to work with. Everything I ordered was delivered when promised and the price was great. The Snap-N-Lock roof panels went together easily. Overall installation went very well. I would recommend this to anyone looking to DIY –Steve Crosby, Lakeland, Fl 

The patio cover kit is easy to put up. It does take minimum of two people. I did tell them that it was going into a corner and not just straight across. Everything that was needed was in the boxes. I will definitely buy the roof kit again if I need to cover another patio. The price was very reasonable. Great company to work with. The price that I was quoted was the price I paid. –Robert Shoemaker , Jacksonville, Fl